In addition to the day-to-day operations of the documentation centre, DOMiD also carries out various projects. They served and serve to develop: educational offers, to expand the DOMiD-collection, to collect stories on migration, and to generally reflect on the migration society.
"Haus der Einwanderungsgesellschaft"
With the "House of Immigration Society", a place is being created in Cologne where permanent and temporary exhibitions will show how migration has inscribed itself in German history and shaped our social coexistence. In addition, as a cultural and educational center, the house offers space for exchange and a change of perspective, for example on questions of identity, living together and participation.
Since its foundation, DOMiD followed the aim to build a museum in which migration is presented as a common phenomenon. This goal is now about to come to reality. In 2019, the federal government and the state of NRW included funds for the "House of Immigration Society" in their budgets. It is expected that it will open in 2025.
Virtual Migration Museum
The Virtual Migration Museum shines a light on migration, in 3D, and delivered directly to users' computer or smartphone[KS1] . Visitors to the museum can move through a fictional cityscape with nine buildings, which are dedicated to various topics. Beyond that, visitors can also travel through time, by switching between three different time periods.
The most up-to-date versions for various devices are available for download at the Virtual Migration Museum website. Whether visitors come on their desktop computer from home, on their smart phone while on the train, or on a tablet from history class at school, this museum is always open.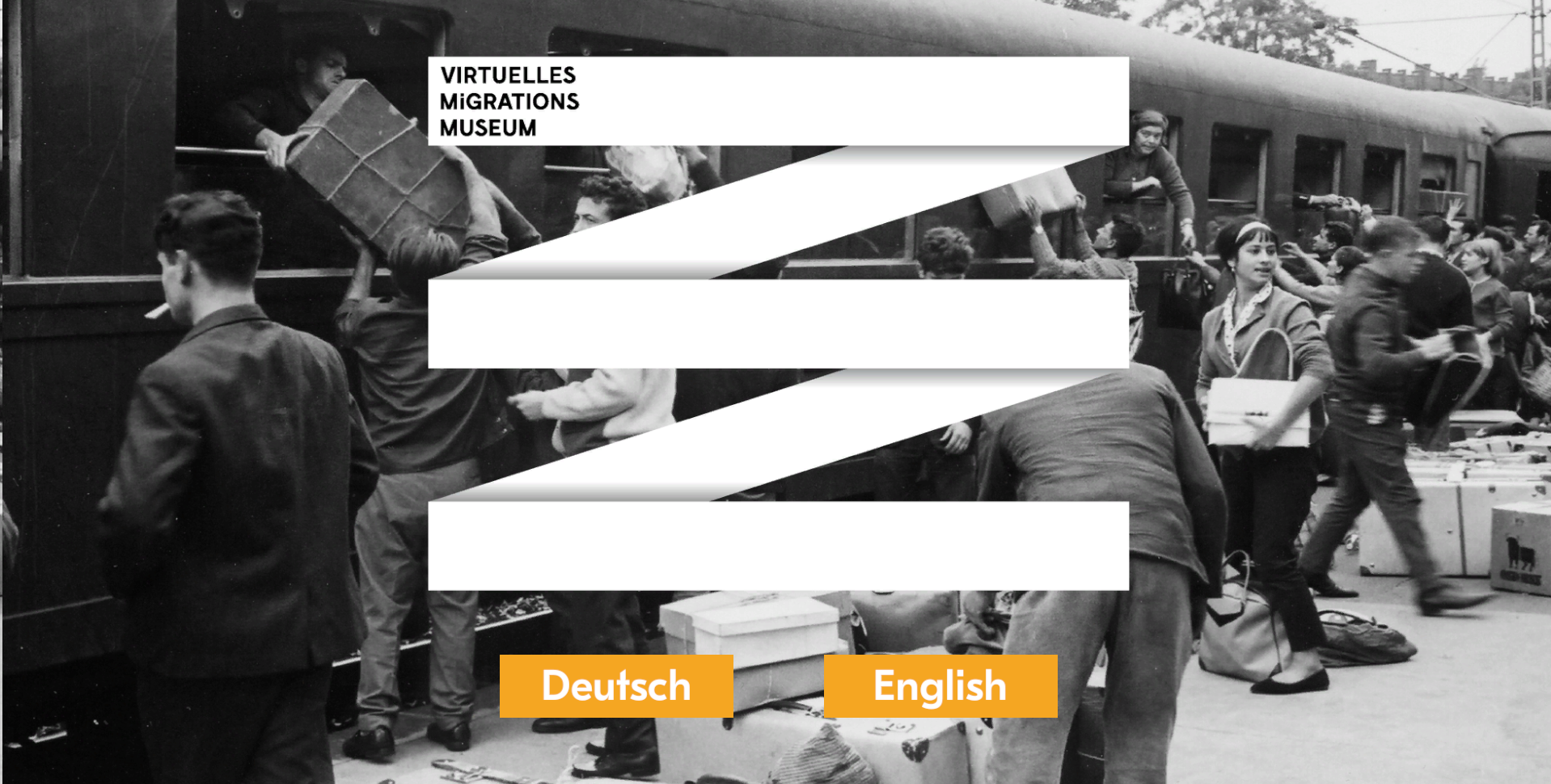 "Together on the move?" #Meinwanderungsland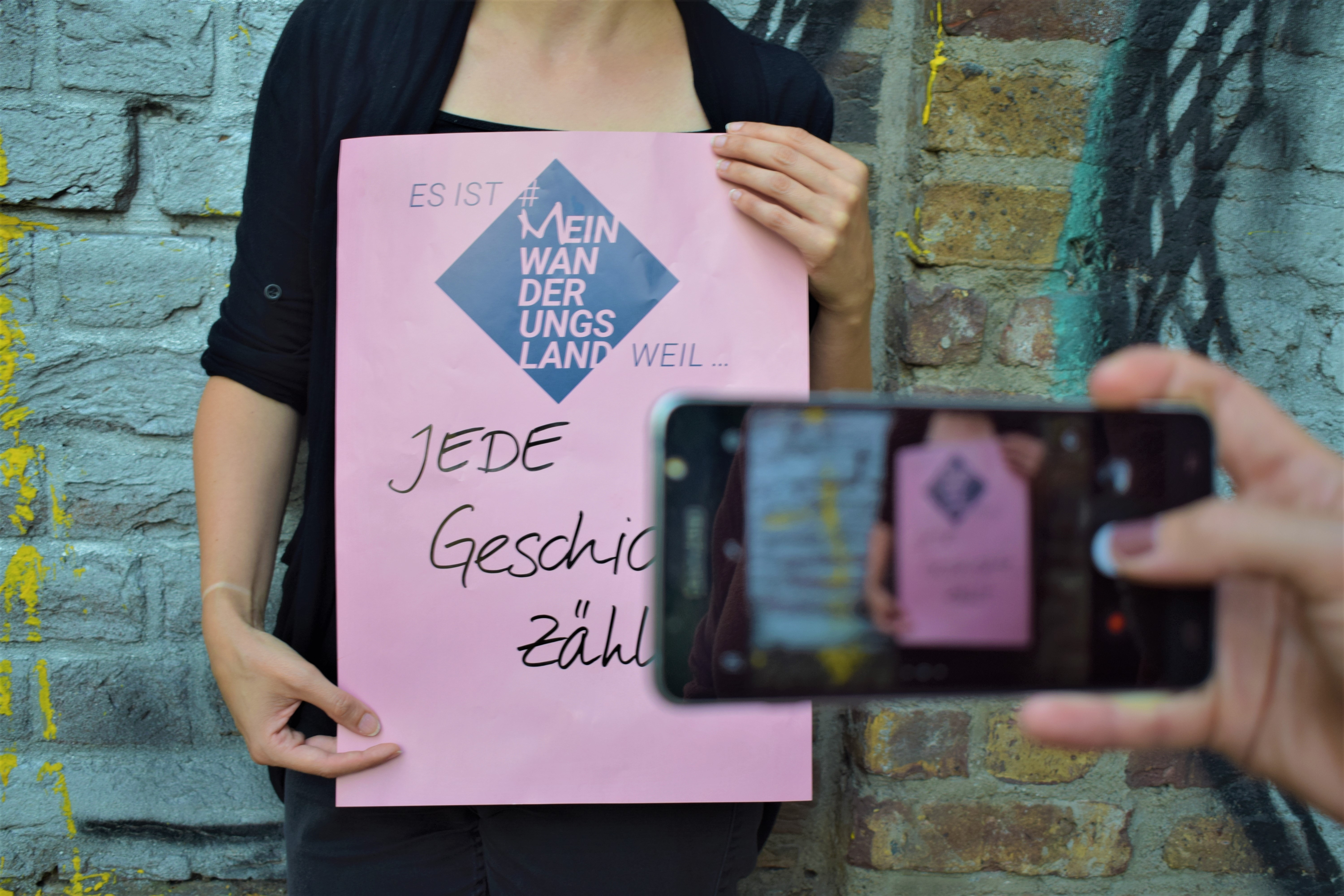 Following the motto "Every story counts", the outreach project #Meinwanderungsland "Gemeinsam unterwegs? Geschichte(n) der Migrationsgesellschaft" was carried out between December 2017 and September 2020. The focus of the first phase of the project was a tour across Germany. At public places, the team gave insights into the DOMiD collection and exchanged opinions with people passing by about the topic of migration. Together with local cooperating partners, events, workshops and city tours were organized. In addition, the team designed two workshops: "Learning with objects - understanding racism" and "Migration as a normal case - multi-perspective and transcultural reporting".
In the second phase the project adjusted to the conditions of the COVID-19 pandemic. Despite major restrictions, innovative events and outreach programs were developed and the project's digital activities were further expanded.
"Meinwanderungsland" was funded by the Federal Government Commissioner for Migration and Refugees and Integration.
An article on the outreach project, written by Dr. Caroline Authaler (former project manager) and Bebero Lehmann (former Press and Public Relations Officer/Deputy Project Manager) can be found in the Kulturpolitische Mitteilungen of the Kulturpolitische Gesellschaft e. V., "Streitfall Erinnerungskultur," issue 171, IV/2020.
The project "Meinwanderungsland" was awarded the future prize "Kulturgestalten 2021" in the category "Individual Projects".
Retrospective: A Selection of our Projects
#1 Memory Lab – Laboratory for Collective Memory Practices | 2019

In 2019 the Memory Lab was a discursive-performative and collective memory laboratory. It consisted of lectures, salons, lecture performances, and gatherings that interrogated, tested, and reflected on various practices and methods of remembrance and archiving in an age of digitalisation and migration.

Starting from a critique of a dominant codified remembrance politics in Germany and Europe that unfolds along the lines of national discourse, the aim of the programme was to encourage fundamental debate about "contested remembrances" and, beyond that, to discuss the relationship between private, public, and collective memory.

Demands are increasing – and are increasingly loud – for new, alternative forms of commemorative culture, that are able to go against the grain of the hegemonic historical narrative – on not only a structural, but also institutional, textual, and formal-aesthetic level. In recent years it has especially been queer, feminist, migrant and/or racialised groups and movements who have been increasingly sustaining alternative remembrance politics in urban spaces: They establish radical "grassroots" archives, turn a critical eye to already existing collections and institutions, call for the renaming of streets, and much more. These alternative archiving and remembrance practices turn away from conventional methods of collecting, organising and preserving of records and documents, in favour of a praxis that is fleeting, performative and not intended to be comprehensive. There is thereby a deconstruction of the classical concept of an archive, moving away from it being a system of storage to a social praxis that elevates and centres the messages and articulations of those who generally are not heard on the world stage.

The Memory Lab took on this interventionist stance and then took it a step further, declaring everyone to be a public historian and expert in remembrance. Together with DOMiD and other partners, the Academy of the Arts of the World sought out spaces of collectivisation and asked in which ways archives can be understood as "living archives", solidary places of negotiation to advance the society of the many.

Memory Lab was curated by Aurora Rodonò and was a series of events put on by the Academy of the Arts of the World/Cologne in cooperation with DOMiD e.V., artrmx e.V., atelier automatique, CityLeaks Urban Art Festival, the Cologne city Office for Continuing Education (Amt für Weiterbildung [VHS]) and Atelierzentrum Ehrenfeld.
#2 Bizim Veedel – A short-film project Köln-Ehrenfeld | 2019

The city district of Ehrenfeld in Cologne has a lively history to look back on. From a former industrial site and working-class area to what is now a colourful, multicultural, and trendy neighbourhood – this district is home to many people of different backgrounds. It is one place that holds many "Heimaten". Ehrenfeld is also home to many people from Turkey.

What was it like to arrive 50 years ago? What is it like today?

NEOLA arts projects e.V. posed the question to a group of young people: What does "Heimat" – home, homeland – actually mean? How and where do we find it? Or it us? The group took a critical look at the idea of "Heimat" and "bizem veedel" – our neighbourhood Ehrenfeld – is what they found. Which places, people, and stories can tell of old, new, and diverse "Heimaten"? Working in teams alongside professionals, the young people produced short films that told of various paths taken while looking for "Heimat", homeland creation, and memory.

In June 2019 the films were shown in an exhibition, organised in cooperation with DOMiD, at Bunker K101 in Körnerstraße in Ehrenfeld.
#3 Refugee Stories Collection – every story matters! | 2017/2018

An English title, three words and a simple idea: To collect the stories of those who have come to North Rhine-Westphalia as refugees since 2015. With the "Refugee Stories Collection" project, in 2017 and 2018, DOMiD was able to document the experiences of 71 people who came to North Rhine-Westphalia after fleeing their homelands. The backgrounds, reasons, and circumstances surrounding their escape, as well as their current living conditions since arriving in Germany were all covered.

Paramount to this project was a shift in perspective: three research associates with their own personal experiences as refugees conducted the interviews, and gathered objects and photographs. Jonatan Bekele, Sahra Camal, and Sami Dzemailovski, in cooperation with DOMiD and project coordinator Elisabeth Pütz, sent a clear signal for greater participation of refugees in society, especially where the telling of personal narratives is concerned.

From the very start, the goal of the project was to impart greater knowledge and understanding through this reclaiming of the narrative, as well as to build empathy and solidarity. Not only is the current situation facing refugees made more visible and accessible, but also, the project provided scholarly findings, in addition to implications for dealing with refugees on the political and societal level.

The publication "Refugee Stories Collection – Jede Geschichte zählt!" provides a glimpse into the interviews and the collected materials.

It is available for download on our website.
#4 Blickwechsel Deutschland-Frankreich | 2016

The exhibition "Blickwechsel Deutschland-Frankreich: Immigranten in der Arbeiter- und Sozialgeschichte, 1968–1990" has been online since March 2016. DOMiD supported the project by the Association Génériques of France by providing photographs.

The aim of the exhibit was to fill a historical gap – in both France and Germany the history of migration by labour migrants has up to now received hardly any recognition.

With a wide array of archival materials (posters, magazines, photographs, flyers, videos...), the exhibit strives to counteract this fact by highlighting the history of people who left their countries of origin between 1968 and 1990 to work in German and French industry.

Association Génériques developed the online exhibit and DOMiD provided material support for the project with archival material on the German context. Since 1987 the organisation Génériques has been working for the preservation and increased visibility of migrant history in France and Europe. The project was sponsored by the French-German Youth Office.

The exhibition is online here.
#5 DOMiD macht Schule | 2013

DOMiD carried out the pilot project "DOMiD macht Schule" (DOMiD Goes to School) together with the Käthe-Kollwitz-Gesamtschule in Leverkusen. The framework for the cooperation was an educational partnership under the auspices of the funding programme "Archiv und Schule" by the Ministry for Family, Children, Youth, Culture and Sport of the state of North Rhine-Westphalia.

One of the project's achievements is a collection of materials that can serve as a basis for covering the topic area of "German migration history" in schoolwork. The study materials were designed in particular to be used for teaching the subject of history at the lower and upper secondary school levels at all types of schools. Select thematic units can however also be offered in subjects such as social studies, politics, ethics, geography, practical philosophy, Religion, German, or in interdisciplinary contexts.

A unique aspect of this project was that it allowed pupils the opportunity to work with a variety of materials from the collections held by DOMiD. These included photos, documents, film and audio recordings, interviews with contemporary witnesses, newspaper articles and other museum objects. In this way the topic of migration became something the pupils could experience hands on, and history was made both fascinating and unusual. In addition the project enabled an introduction to and familiarisation with the archive as a historical source, and it provided a glimpse into archival work: the school groups could take part in a tour of our archive rooms and depot.

Following the workshops with DOMiD, the upper-level pupil on the project course organised an exhibition at their school. This showcased exclusively exhibits, photographs, and interviews with contemporary witnesses which the pupils themselves personally researched or conducted.

The project helped its audience to become more aware of migration history, which is an indisputable part of Germany's history, and it encouraged the nurturing of compassionate and responsible interactions with fellow human beings. Pupils with their own personal migration history were bolstered in forging or finding their own identity.

For pupils of the Käthe-Kollwitz-Gesamtschule, it was their first visit to an archive. They, as well as their teachers, found the archival work especially exciting and authentic. The collaboration with the school worked so well, that further joint projects are already being planned.
#6 Project Migration | 2005/06

DOMiD conducted "Projekt Migration" in cooperation with the Kölnischer Kunstverein, the Institute for Cultural Anthropology and European Ethnology at the Goethe University, Frankfurt am Main, and the "Institut für Theorie der Gestaltung und Kunst an der Hochschule für Gestaltung und Kunst" in Zürich. The project was sponsored by the German Federal Cultural Foundation.

The project covered a variety of research projects, art campaigns, events, and film programmes. At the centre of all this work was the history of labour migration since the 1950s, as well as the societal changes brought about by these migration movements.

One of the many events and campaigns was an exhibition, which could be found between the autumn of 2005 and early 2006 at four different places in central Cologne. The exhibition marked the 50th anniversary of the signing of the German-Italian labour recruitment agreement on 20 December 2005. This was the formal beginning of migration between various Mediterranean countries, as well as Portugal, and Germany.

The exhibition focused on the societal changes effected by migration. It thus presented a Germany and Europe shaped by migration. Beyond that, from a consideration of history and the present situation, it mapped out the question of the future potential of migration.

A multilingual catalogue published by DuMont Verlag complemented the exhibition. It contained photographic and artistic images, documents, and interviews, as well as essays contributed by international scholars. For its extraordinary design, concept, and workmanship, the catalogue was awarded a prize by the Stiftung Buchkunst in 2005.