News, Book/Literature, Event
Book: The memory of the migration society
Freelance author Manuel Gogos takes on the history of DOMiD in his newly published book "Das Gedächtnis der Migrationsgesellschaft. DOMiD - Ein Verein schreibt Geschichte(n)" (DOMiD - An Association Writes History). The book is published in the series "Edition Museum" by transcript Verlag.
The book is now available as a hardcover from the publishing house. Thanks to funding from the Ministry for Children, Family, Refugees and Integration of the State of North Rhine-Westphalia, we can also make the book available free of charge as a digital open access version in PDF format.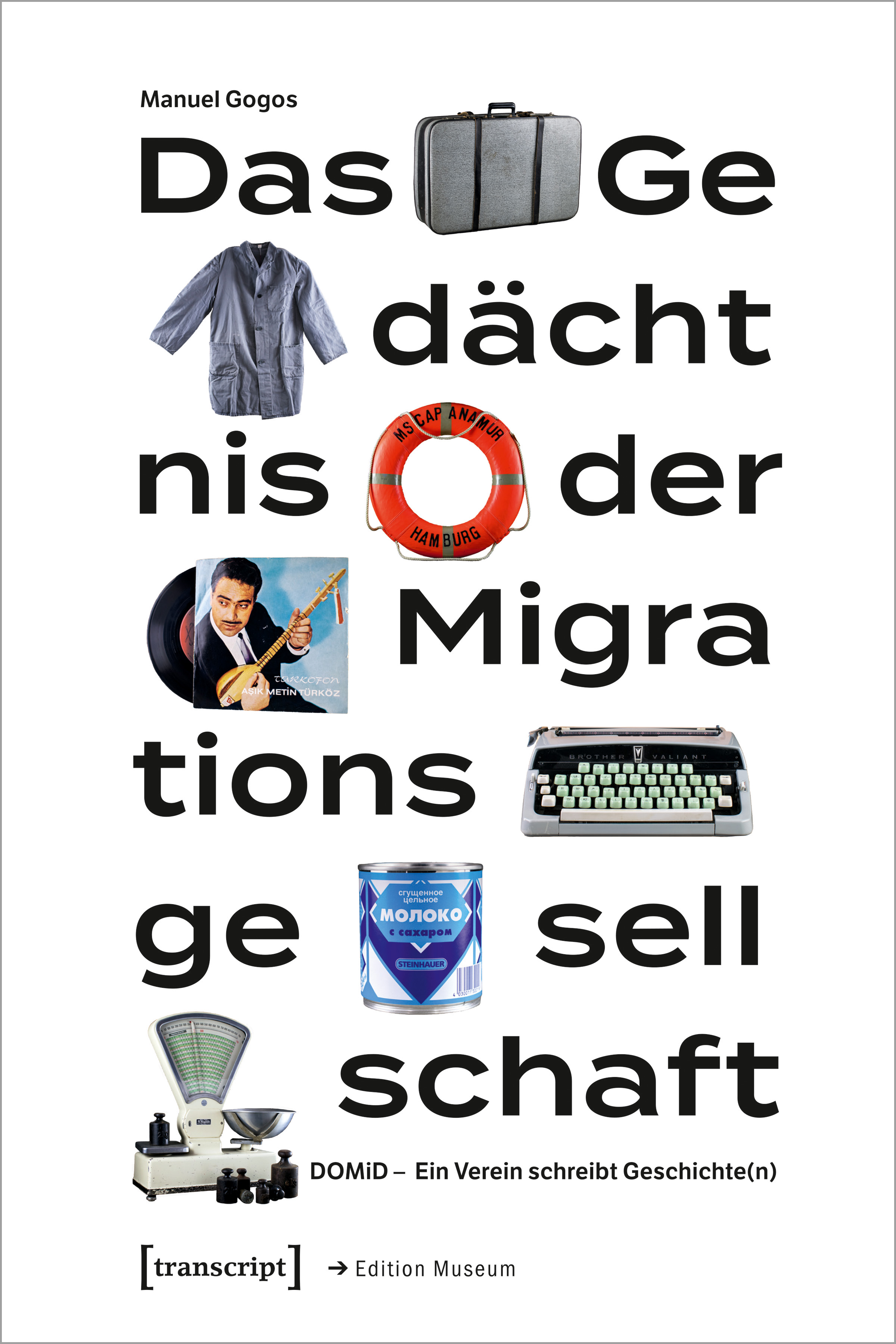 Life in the Federal Republic of Germany is shaped by millions of migrants. For a long time, their history remained unwritten, but in 1990, the pioneers of the "Documentation Center and Museum on Migration in Germany e.V." (DOMiD), who originated from Turkey, began to document their everyday culture. (DOMiD) began to collect everyday cultural
objects from the era of the so-called "guest workers" and present them in exhibitions.
Today, the collection comprises more than 150,000 contemporary testimonies from Germany's migration history since 1945 until today. Countless untold stories of multiple migrations are tied to it.
In this book, freelance author Manuel Gogos traces the history of our association DOMiD. Our project "History of the Association", which was supported by the state of North Rhine-Westphalia, did the preliminary work for this. Our colleague Ceyhun Kara was able to prepare our association archive in such a way that it became questionable as a source archive.
In the richly illustrated book, many of our companions of the last 30 years have their say and milestones are skilfully traced in essays.
With contributions by:
Dan Thy Nguyen, Mathilde Jamin, Aytaç Eryılmaz, Jagoda Marinic, Martin Rapp, Regina Wonisch, Robert Fuchs, Michael Fehr, Armin Laschet, Bengü Kocatürk-Schuster, Anton Rütten, İbrahim Arslan, Ahmet Sezer, Eleni Tsakmaki, António Muñoz Sánchez, Yvonne and Christel Neudeck, Arnd Kolb, Caroline Authaler, Bettina Just, Beate Rieple, Tayfun Demir and many more.
Book launch event
18.01.2022
7 pm, free admission
Registration required
The event is a cooperation between DOMiD and Literaturhaus Köln.
Manuel Gogos reads from his book and tells how he approached the stories deposited layer by layer at DOMiD.
The co-founder of the association Aytaç Eryılmaz, one of the pioneers of the museumization of migration, is one of the protagonists in the book and will report on the early history of the association.
Museologist and DOMiD employee Sandra Vacca will give an outlook on the planned migration museum and explain why it will be designed in a participatory way.
The book presentation will be moderated by literary scholar Maryam Aras.
Manuel Gogos:
"The Memory of the Migration Society.
DOMiD - An Association Writes History(s)".
Print
40,00 EUR
11/2021, 272 pages hardcover
thread binding, throughout
four-color
ISBN 978-3-8376-5423-3
Order
Please note, that the book is written in German language.
E-Book (PDF)
Open Access: 0 EUR
11/2021, 272 pages
four-color throughout
ISBN 978-3-8394-5423-7
Request free e-book
Please note, that the book is written in German language.