News, Migration museum
Visit from Reem Alabali-Radovan and Sanae Abdi
The Federal Commissioner for Migration, Refugees and Integration and Anti-racism Commissioner, Reem Alabali-Radovan, as well as the Cologne Member of the Bundestag, Sanae Abdi, paid a visit to DOMiD on April 22, 2022. While the realization of our museum "House of Immigration Society" is progressing, the exchange with politicians in office is an important part of our work. This first meeting was about understanding the importance of a nationwide migration museum as a symbolic place of remembrance and encounter for the entire German migration society.
Group photo at DOMiD. On the photo from left to right: Dr. Katrin Schaumburg (Project Manager House of Immigration Society, DOMiD), Dr. Iva Krtalić (Member of the Board DOMiD), Reem Alabali-Radovan (Federal Commissioner for Integration), Dr. Robert Fuchs (Managing Director DOMiD), Sanae Abdi (Member of Parliament Bundestag).
The passionate boxer Alabali-Radovan found links to her own biography in many memorabilia at DOMiD. The picture shows boxing pads from our lender Boro M.
At the showcase from a shelter for refugees in Unna-Massen, Alabali-Radovan also recalled how she herself, as a child in the refugee shelter, stood in front of the announcement box every week full of hope to find out whether her family was now allowed to leave the emergency shelter.
Topics such as identity, hierarchies of migrant groups, admission procedures or camps and reception facilities were also not left out of the tour at DOMiD.
Reem Alabali-Radovan and Sanae Abdi in the DOMiD library, which has many special titles on migration and gray literature.
The collection of DOMiD, both politicians emphasized, impressively reflects the complexity of our society. During the guided tour, for example, the boxing claws of our lender Boro M. were shown, who had come to Germany from Mostar and was involved in a boxing club for many years. The boxing claws as well as other trophies shown exemplify sport as a motor of integration.
The topic of anti-racism was shown and discussed by means of the collection of signs of the anti-racist network "NSU-Komplex auflösen" and a radio of the Genç family from Solingen.
We are thankful for the visit and look forward to further cooperation.
Grußwort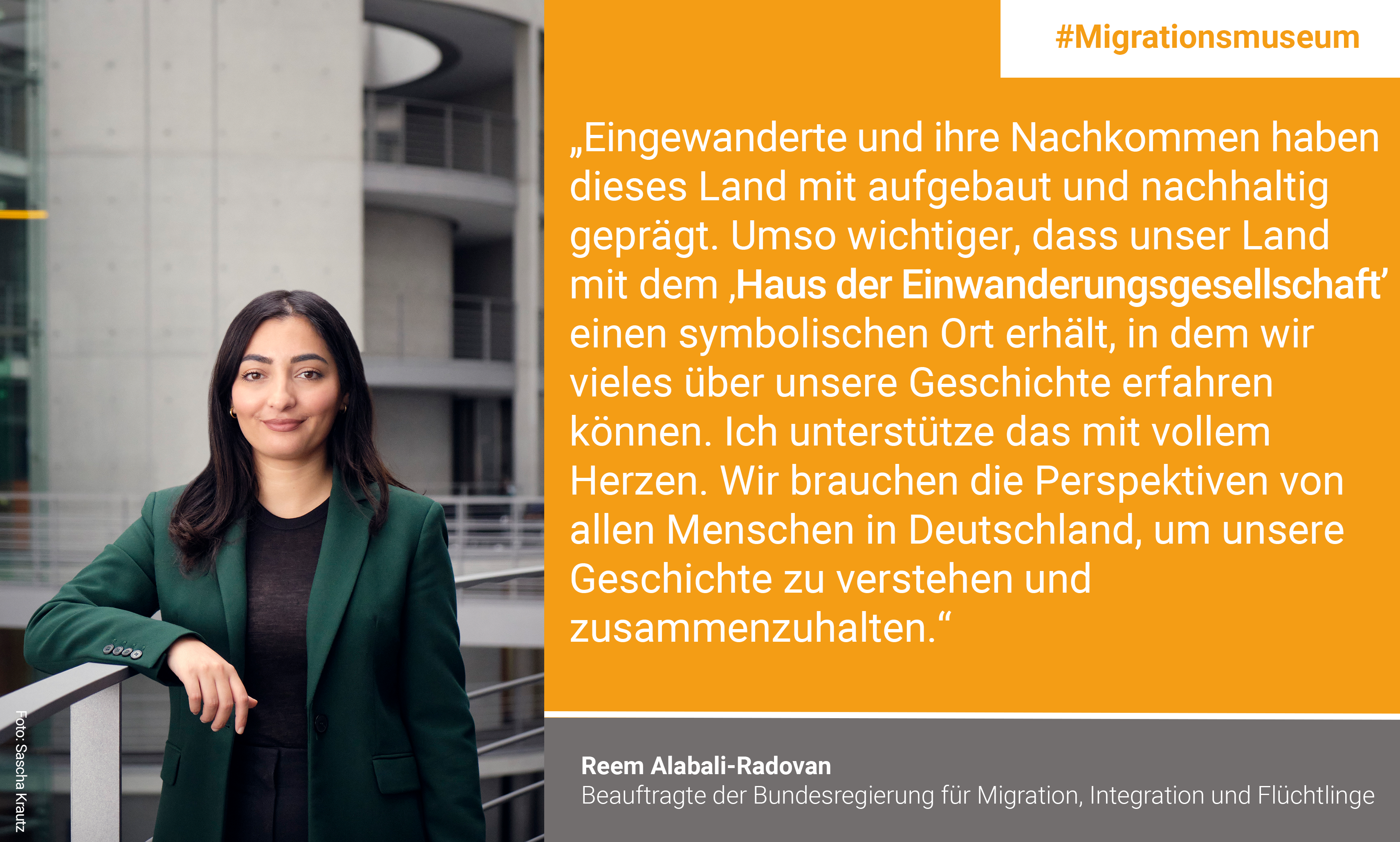 About Reem Alabali-Radovan
Reem Alabali-Radovan is the child of Iraqi parents and was born in Moscow in 1990. When she was six years old, she came to Schwerin with her family, where she went to school until she graduated from high school. After studying political science in Berlin, she returned to Mecklenburg-Vorpommern in 2015. There, she first worked at the initial reception center for refugees in Nostorf-Horst, where she herself was taken in as a child.
In 2020, she became integration commissioner for the state government of Mecklenburg-Western Pomerania. In 2021, she won the direct mandate in her constituency and moved into the German Bundestag. She was appointed by Chancellor Olaf Scholz as Minister of State for Migration, Refugees and Integration in the Federal Chancellery and, a little later, as the Federal Government Commissioner for Anti-Racism. In this office, she is responsible for coordinating the package of measures against racism.