In order to place topics such as racism and migration in educational institutions, DOMiD offers two different workshops: "Mit Objekten lernen— Rassismus begreifen" and "Migration als Normalfall— Multiperspektivisch und transkulturell berichten".
The workshop "Mit Objekten lernen— Rassismus begreifen" was designed for middle school, but can also be used by higher grades. With the help of the teaching materials, teachers are able to conduct the workshop independently. The materials can be downloaded from the website.
The workshop "Migration als Normalfall - Multiperspektivisch und transkulturell berichten" was developed by DOMiD and the Neue deutsche Medienmacher*innen (NdM) and is suitable for (prospective) journalists. DOMiD and the NdM are committed to exchanging ideas with future media professionals and to stimulating reflection processes - for factual and multi-perspective reporting beyond cultural and racist stereotypes.
Offers for teachers: Workshop for pupils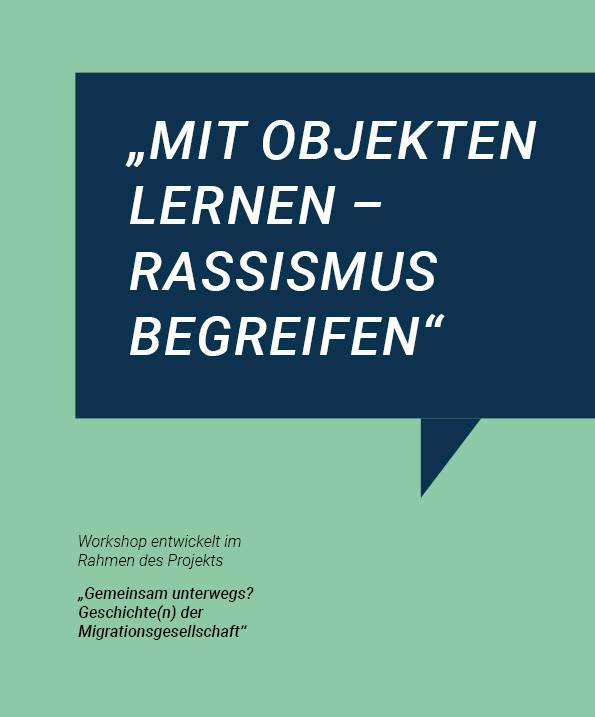 Within the framework of the workshop "Learning with Objects - Understanding Racism" pupils* are sensitized to the topic "racism".
The PDF contains detailed instructions, different worksheets and an extensive glossary so that you can conduct the workshop independently in your school or organization.
The special thing about the workshop is that it is designed for the middle school (Sek I.). So far, there is not much educational material on the topic of anti-racism for this age group. However, the workshop can also be used in higher classes, and the team has had good experiences with the material in vocational schools and in upper secondary schools. Unfortunately, the workshop is not suitable for elementary schools.
Please download the file and contact us if you have any questions: service@domid.org
"Understanding racism"

Workshop-Material (German only)

ZIP / 4 MB
Workshop for Media Professionals
Migration as a normal case - multi-perspective and transcultural reporting
In the media, migration in Germany is predominantly portrayed as a new phenomenon and often dramatized. This is hardly surprising, since homogeneous national images of history are often conveyed in which migration represents an exceptional or problematic case in German history and society (see e.g. Textbook Study by the Georg Eckert Institute, 2015). Moreover, intercultural competence is not yet a standard part of the school and university curriculum.
In order for journalists to report on migration and integration beyond stereotypes, we believe it is important to reflect on our own and collective images of history, to compensate for knowledge deficits and to test the role of journalists in the construction of images of migration.
This is where the workshop of the New German Media Makers* and DOMiD comes in. Perspectives from science and journalistic practice are brought together to sensitize for a historical contextualization and a differentiated "framing" in the reporting about migration and integration. Techniques will be taught and ideas for a new view on the topics migration and integration will be developed together with the participants.
The aim is to provide impulses for a form of reporting that departs from the sometimes simplistic mainstream of the debate and uses scientific findings to document, comment on and explain social processes in a differentiated manner.
Please direct any inquiries to: service@domid.org
The workshop can also be held as a webinar.