Sponsorship, donations and promotion
#unserMuseum as a house for all
About a quarter of all people in Germany have an international history. Migrants have changed Germany, revitalised it, democratised it and made it a society worth living in. The stories of immigrants and their descendants finally need a place in Germany where they are told. DOMiD has been taking on this important task since 1990, collecting and preserving the cultural artefacts that bear witness to Germany's rich migration history. With our museum, we honour the life achievements of migrants on the one hand, and on the other hand we show how much migration shapes our everyday life and how deeply the stories of migration are intertwined with the history of Germany. Everyone is affected by migration, because migration is a shaping force of our society.
As a place of learning and education, #unserMuseum will also be a place of democratic debate. With disputes and contradictions, different perspectives should also have their place. We are creating a space in which we may experience ourselves as a (post-)migrant society. This is more important than ever - because talking about questions of migration addresses fundamental questions of democracy: Who is part of the German memorial landscape? How do we want to live together? Who is allowed to decide and who is excluded?
We are looking for partners who share our societal vision, who can identify with our mission for a migration museum and who can support us financially in this way.
We believe that a culture of memory, in the sense of an inclusive and multi-perspective historical narrative, and civic participation are linked. With exhibitions, workshops, cultural events as well as artistic programmes and academic offerings, we will become a new point of contact and reference for the migration society. In Cologne, in the heart of Europe, we are establishing: #unserMuseum.
Help us to create this symbolic place of learning in Cologne and set an example for future generations of community, solidarity and a multi-perspective culture of remembrance.
Secured by the public sector
The federal government and the state of North Rhine-Westphalia together provide around 45 million euros in investment funds for the museum. The public sector secures the construction, operation and ongoing expansion of the collection.
With your contribution - whether as a small donor, a foundation, a company or an organisation - you will also help to create greater visibility for our social concerns, establish sustainable structures and processes and enable further innovative projects already in the start-up phase (2021 - 2027).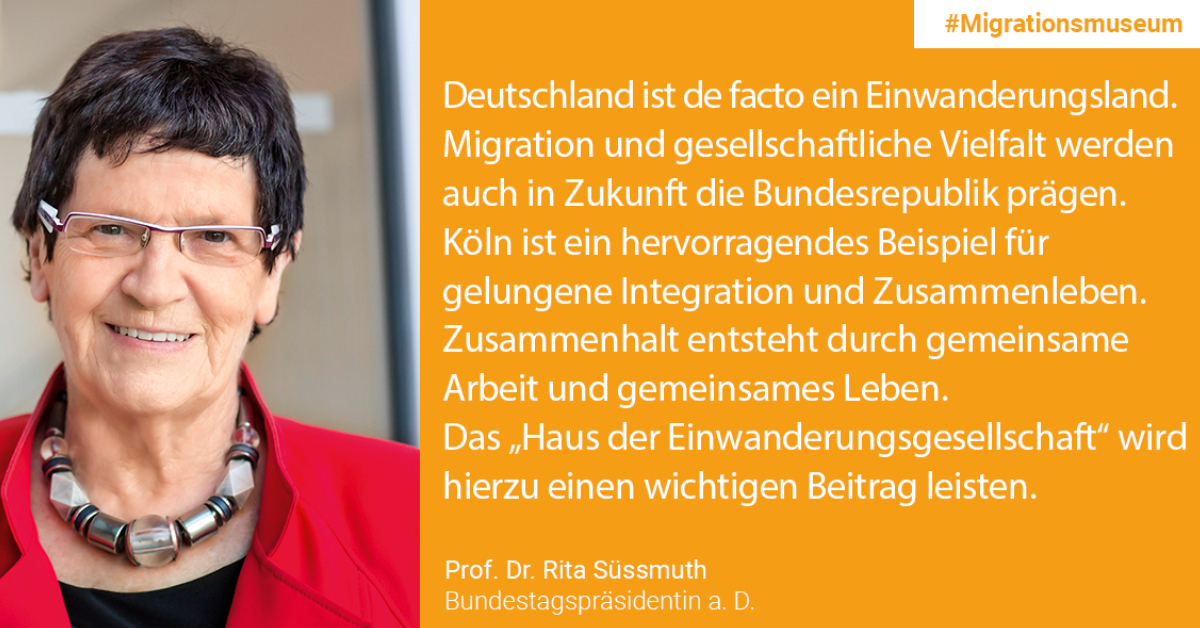 A greeting from the patron of the "House of the Immigration Society"
Sponsoring
5 reasons to support #unserMuseum as a company / organisation:
You take on responsibility for a project that is exemplary for our diverse migration society.
You contribute to increase the visibility of (post-)migrant perspectives in society
You strengthen a multi-voiced and multi-perspective image of history that contributes to an inclusive culture of remembrance
You test innovative and participative formats with us in the field of outreach, exhibition or collection
Your organisation benefits in a special way from our education and outreach services
Would you like to be one of the supporters already in the construction phase? We are available exclusively to institutional supporters for a conversation about the planned "House of Immigration Society". Please feel welcome to make an appointment:
0221-800 28 30 or by email to nicola.kunst@domid.org
Donations
For over 30 years we have built on a strong DOMiD community. Whether as a member, volunteer or through financial support. We welcome standing orders or one-off donations. These can be transferred to the following donation account:
Recipient: DOMiD e.V.
Bank: Sparkasse Köln-Bonn
Reason for payment: Spende
IBAN: DE12 3705 0198 0022 9520 48
SWIFT-BIC: COLSDE33XXX
DOMiD e.V. is recognised as a non-profit organisation. We issue a so-called donation receipt for donations over €200, which you can claim on your tax return. For donations below this limit, a bank statement is sufficient for the tax office and you do not need a donation receipt.