60 years Almanya, News
Cologne celebrates the anniversary: 60 years of the German-Turkish recruitment agreement
October 30, 2021 marks the sixtieth anniversary of the Federal German Recruitment Agreement with Turkey. In the week from 26.10. to 30.10.2021 numerous events are planned, which the city of Cologne will organize in a leading role or as a cooperation partner. The central ceremony in Cologne's Gürzenich will be organized in cooperation with DOMiD under the motto "We called for workers, and people came" (Max Frisch)/ ''Biz iş gücü çağırdık ve insanlar geldi''. On this occasion, DOMiD shows the exhibition "Much experienced, much accomplished... much to do! - Stories from the migration society".
The ceremony was a successful event. On this occasion, Lord Mayor Henriette Reker, the Turkish Consul General Turhan Kaya and DOMiD Managing Director Dr. Robert Fuchs met in our exhibition. Lord Mayor Henriette Reker thanked DOMiD for the exhibition, which was well received at the ceremony. On the podium of the ceremony, Dr. Joachim Stamp, Minister for Children, Family, Refugees and Integration of the State of North Rhine-Westphalia, praised our museum project 'House of Immigration Society' as a joint project of the city, state and federal government.
The ceremony was broadcast in a live stream and can still be viewed as a recording at this link.
On the occasion of the anniversary, a special page has been designed where all the information is collected. DOMiD has provided photographs from the archive for this purpose.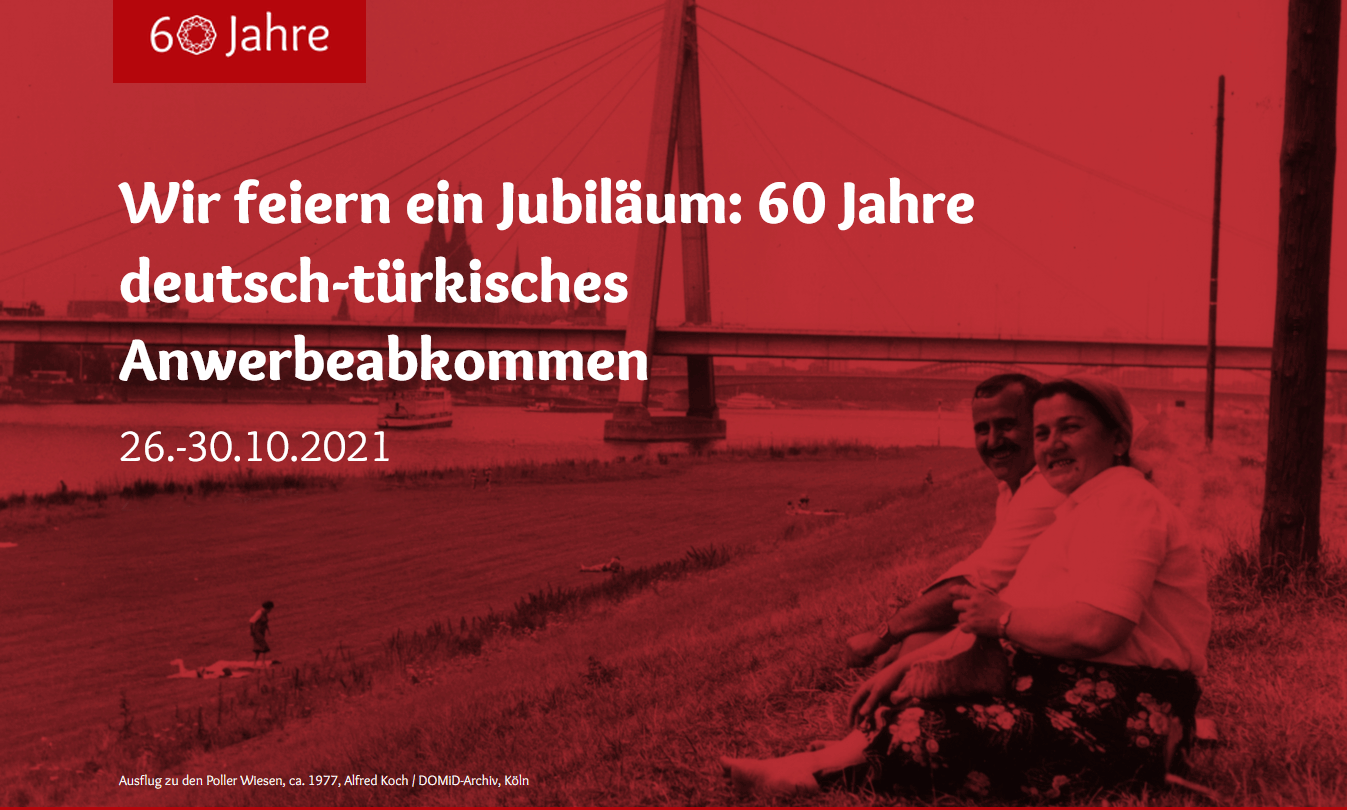 Impressions from the ceremony
Our exhibition "Much experienced, much accomplished... much to do! - Stories from the migration society" at the ceremony of the city of Cologne in the Cologne Gürzenich. Photo: DOMiD Archive, Cologne
Lord Mayor Henriette Reker, Turkish Consul General Turhan Kaya and DOMiD Managing Director Dr Robert Fuchs gathered at our exhibition during the ceremony in Cologne's Gürzenich. Photo: DOMiD Archive, Cologne
Our board member and journalist Elif Şenel moderated the guests through the ceremony. Photo: DOMiD Archive, Cologne
DOMiD Managing Director Dr. Robert Fuchs at the ceremony of the City of Cologne in the Cologne Gürzenich. Photo: DOMiD Archive, Cologne
The visitors had the opportunity to see our exhibition at the ceremony of the city of Cologne. Photo: DOMiD Archive, Cologne