News, Exhibition, 60 years Almanya
Exhibition at Museum Ludwig – "In Situ: Photo Stories on Migration"
Private photographs with interviews of Yücel Aşçıoğlu, Tayfun Demir, Chrysaugi Diederich, Onur Dülger, Antonella Giurano, Antonios Gogos, Zeynep Gürsoy, Alpin Harrenkamp, Ali Kanatlı, Bengü Kocatürk-Schuster, Angela L., Özdağ family, Mitat Özdemir, Asimina Paradissa, Rosa Spitaleri, Fikret Üçgüler, Sofia and Ioanna Zacharaki. Other private photographs by Alibaba G., Salih G., Marie Claire Ippolito, Romolo di Sabatino and those who do not wish to be named; the photographs are from DOMiD, the Documentation Center and Museum on Migration in Germany.
These are combined with photographs of urban life by Jörg Boström, Chargesheimer, Christel Fomm, Ford-Werke GmbH, GAG Immobilien AG, Cologne, Heinz Held, Candida Höfer, Kurt Holl, Gernot Huber, Rheinisches Bildarchiv Köln, Ulrich Tillmann, Schulz, Dieter Storp, students of the Ruhr-Universität Bochum, Guenay Ulutuncok, Manfred Vollmer, Ludwig Wegmann, Eusebius Wirdeier, a film by Edith Schmidt-Marcello and David Wittenberg, and a video project by Ulf Aminde.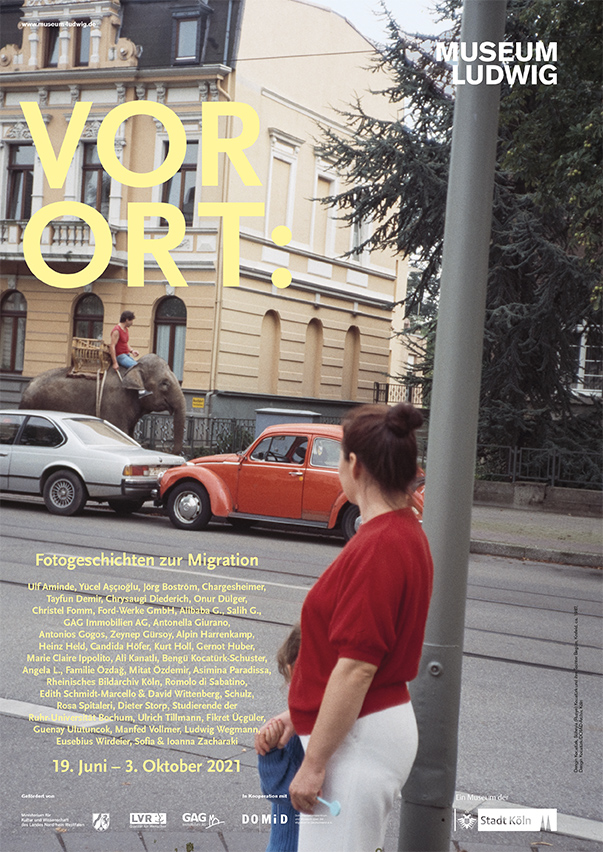 Photographs of Cologne and other cities in the Rhineland between 1955 and 1989 make visible the constant change brought about by the inhabitants. Until now, the photographic histories of migrant workers have hardly entered the public visual memory of the cities. The exhibition at Museum Ludwig therefore focuses for the first time on private photographs. An important starting point here are the testimonies of migration stories from the DOMiD collection. In interviews, the lenders of the exhibition provide information about their diverse stories. They talk about life in the city and how it was enlivened by their immigration. Their private photographs show how streets, houses, stores, pubs and parks become carriers of memory and part of the city's history. The exhibition addresses the role of photography in this context. It combines the new and surprising city views with the photographs of urban life by Chargesheimer, Candida Höfer and Ulrich Tillmann from the collection of the Museum Ludwig and complements them with photographs by Christel Fomm, Gernot Huber, Guenay Ulutuncok and others. Beyond the fleeting experiences of life in the city, the photographic stories of migration show the many ways in which one can locate oneself in a new city.
The exhibition at Museum Ludwig was created in cooperation with DOMiD. Curatorial advice by Manuel Gogos and Aurora Rodonò.
Cu­ra­tors: Ela Kaçel (ar­chi­tec­tu­ral his­to­rian, and guest cu­ra­tor) and Bar­bara En­gel­bach (cu­ra­tor)
Accompanying programme
06/18/2021 - Digital opening, 7 p.m., live walk through the exhibition via Instagram
06/19/2021 - Opening for the public
07/01/2021 - Long Thursday, 7 p.m., slide show and talk with Bengü Kocatürk-Schuster and Robert Fuchs (DOMiD). Admission to the cinema starts already from 18.30h, we recommend to come in time, because the seats are limited. Admission only after presentation of a certified daily Corona rapid test (not older than 24h hours).
Presentation: Sonja Hempel
Location: Filmforum, Cinema in Museum Ludwig and as livestream on Instagram
Remembering Migration: A Family History in Slides.
How do we remember migration? Bengü Kocatürk-Schuster and her family have a migration history that is closely connected to several cities - Munich, Krefeld, Ankara and others - since the 1970s. On the basis of slides of her father she will talk about the together-separated life. Today she works at DOMiD e. V., the documentation center and museum about migration in Germany. DOMiD is a central cooperation partner of the exhibition. Robert Fuchs, managing director of DOMiD, will talk about the special features of the documentation center's collection and give an insight into initial ideas for a planned migration museum.
Catalogue
The exhibition will be accompanied by a catalog:
In Situ: Photo Stories on Migration, edited by Ela Kaçel and Barbara Engelbach, with texts by Yilmaz Dziewior, Ela Kaçel & Barbara Engelbach and numerous interview excerpts, German/English, 21 x 21 cm, 304 pages, 230 illustrations, Verlag der Buchhandlung Walther und Franz König, ISBN 978-3-7533-0038-2, 25 euros.